Community Outreach
Uncategorized
Speaking to women and girls at Appiatse about the work we do in the fight against sexual and gender-based violence and its related mental health issues through awareness creation and support of survivors and target populations. We engage them in the training and generation of proceeds for them from the products they make.
In mining communities such as Appiatse; women and girls are often at a disadvantage in a lot of things that are presented by such communities.
1. Increase in teenage pregnancies: A lot of the girls due to poverty, are easily persuaded by men and boys who engage mostly in illegal mining to have sex with them.
2. When we visited, the town's population was mainly women. Most of the men had fled after the mining explosion devastated their communities and homes. Some of them, look for greener pastures to cater to their families, while others have not been heard of. This leaves the women behind to find ways of taking care of their families on their own.
3. The rise in sexually transmitted infections. In the face of such ignorance around the subject, their desperation to survive removes from their minds any precaution to ensure that they are healthy and well in their sexual encounters.
Items donated to the people at the Appiatse Relief Camp(more than 300km from the capital),
were 3 knapsack sprayers to support their farming community to ensure their sustainability after our outreach to them.
Do you remember Efua; the autistic girl that was raped in Appiatse, she got some funding and donations for her baby through the Agenda Feed 1000 project.
Some consumables donated were 3 bags of rice and two gallons of oil.
We also donated mosquito nets for all members who are camped due to the mining explosives affecting their homes.
We took them through skills training, ensuring that they produced products from this session to be sold on their behalf to generate proceeds for them.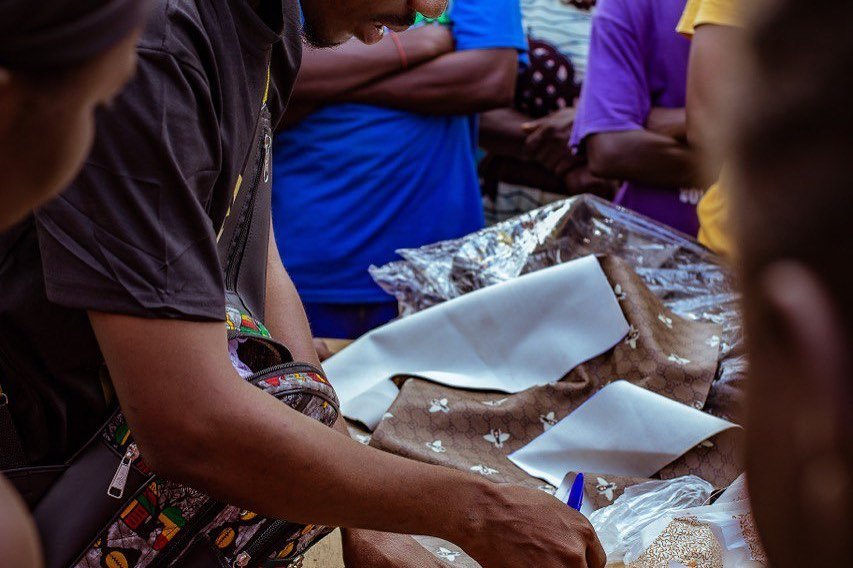 We threw light on our unwavering commitment to support and fight with them against sexual and gender-based violence that's been on the rise in their community.